The 2009 Ford Mustang Shelby GT500KR (King of the Road) is a special edition variant of the Ford Mustang developed in collaboration with Carroll Shelby, a legendary figure in the world of high-performance automobiles. The GT500KR is a homage to the original 1968 Shelby GT500KR and represents the pinnacle of performance and exclusivity for the fifth-generation Ford Mustang (2005-2014). Here are the key features and details of the 2009 Ford Mustang Shelby GT500KR:
Engine and Performance:
The GT500KR is powered by a supercharged 5.4-liter V8 engine that has been specially tuned to deliver impressive performance.
It produces around 540 to 550 horsepower and 510 lb-ft of torque, making it one of the most powerful production Mustangs of its time.
The supercharger is an Eaton Roots-type unit, which forces air into the engine to enhance power output.
Transmission:
The GT500KR features a six-speed manual transmission that provides direct control over the engine's power delivery.
The transmission is mated to a short-throw shifter for more precise gear changes.
Exterior: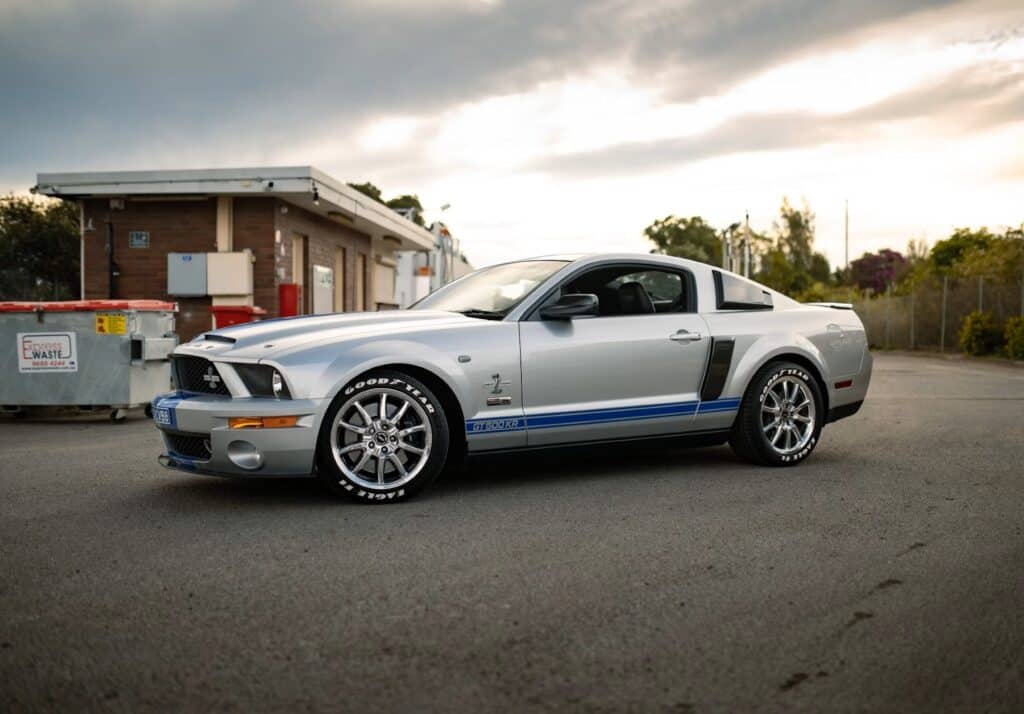 The exterior design of the GT500KR pays homage to the classic Shelby Mustangs of the past while incorporating modern styling cues.
It features unique body components, including a carbon-fiber composite hood with functional scoops and vents for improved airflow and heat dissipation.
The car sports distinctive GT500KR badging and stripes, giving it a distinct and aggressive appearance.
Suspension and Handling:
The suspension system has been upgraded to enhance handling and performance. It includes revised spring rates, dampers, and anti-roll bars.
The GT500KR is equipped with a high-performance suspension setup that provides better cornering and road-holding capabilities compared to the standard GT500.
Wheels and Tires:
The car rides on 18-inch aluminum wheels with a unique design that is reminiscent of the original GT500KR's wheels.
The wheels are wrapped in high-performance tires to provide optimal grip and traction.
Interior:
The interior of the GT500KR is designed to reflect its high-performance nature. It includes unique GT500KR badging and details.
Upgraded materials and finishes contribute to a more premium feel, while sporty seats provide additional support during spirited driving.
Limited Production:
The GT500KR is a limited-production model, making it relatively rare and sought after by collectors and Mustang enthusiasts.
Each vehicle is individually serialized, emphasizing its exclusivity.
Collectibility:
The GT500KR holds significant value among collectors due to its limited production, connection to Carroll Shelby's legacy, and its position as a high-performance variant of the Mustang.
The 2009 Ford Mustang Shelby GT500KR represents a blend of classic Shelby Mustang heritage with modern engineering and performance enhancements. It's a vehicle that appeals to those who appreciate the historical significance of the GT500KR name and seek a high-powered, collectible Mustang model.